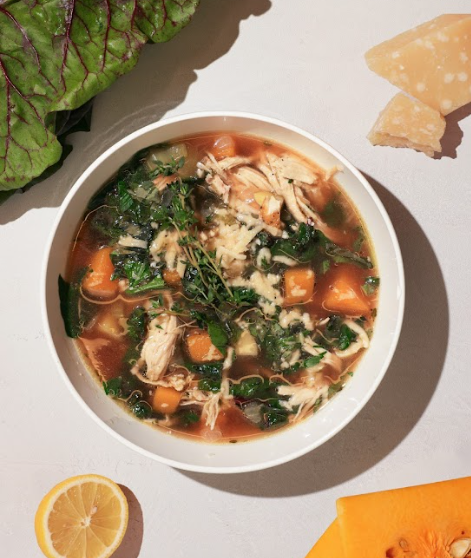 Fall soup with Chicken, Butternut Squash, and Swiss Chard
Made with fresh seasonal vegetables and greens, chicken, and a delicious, hearty broth.
Ingredients
3 tablespoons extra virgin olive oil

2 large chicken breasts 

1 yellow onion, chopped

3 ribs celery, chopped

1 small butternut squash, peeled and cubed

1 medium Yukon gold potato, cubed

8 sprigs of fresh thyme

1 bay leaf

1 large clove garlic, peeled and smashed

8 cups bone broth or low-sodium chicken stock 

1 large bunch of Swiss chard, tough stems removed, roughly chopped 

Sea salt and pepper to taste

Shaved raw parmesan for topping

Chopped parsley and basil for topping
Instructions
Pat dry chicken breasts and season with a liberal amount of sea salt and pepper. Set aside. 

Preheat a large stock pot or Dutch oven over medium, and add the olive oil. 

Add the seasoned chicken and sear on all sides until golden brown. Remove the chicken and set aside. 

To the pot, add the onions, celery, butternut squash and potatoes. Sautee on med-low heat until onions are translucent and celery is soft. Season with salt and pepper. 

Stir the thyme, garlic, and bay leaf, and cook for 1 minute until fragrant. 

Add in the chicken broth and the seared chicken breast, turn the heat to low, and let the soup simmer for about 20 -30 minutes until the chicken is cooked through

Once the chicken is cooked, remove the breast and shred it. 

Add the shredded chicken back to the pot. Let simmer for another few minutes. Season with salt and pepper to taste. 

Turn off the heat and stir in the Swiss chard until wilted. 

Serve soup and topped with fresh parmesan, chopped parsley and basil.
Need an extra boost?
As the chill of the season sets in, it's important to support your immune system with quality supplements so you can stay healthy (and keep those around you love healthy, too!) Try some of our fall favorites:
Did you make this recipe?
If you made this recipe, tag @cymbiotika on Instagram and hashtag it #cymbiotikaeats! We'd love to see your creations.
Looking for more recipes?