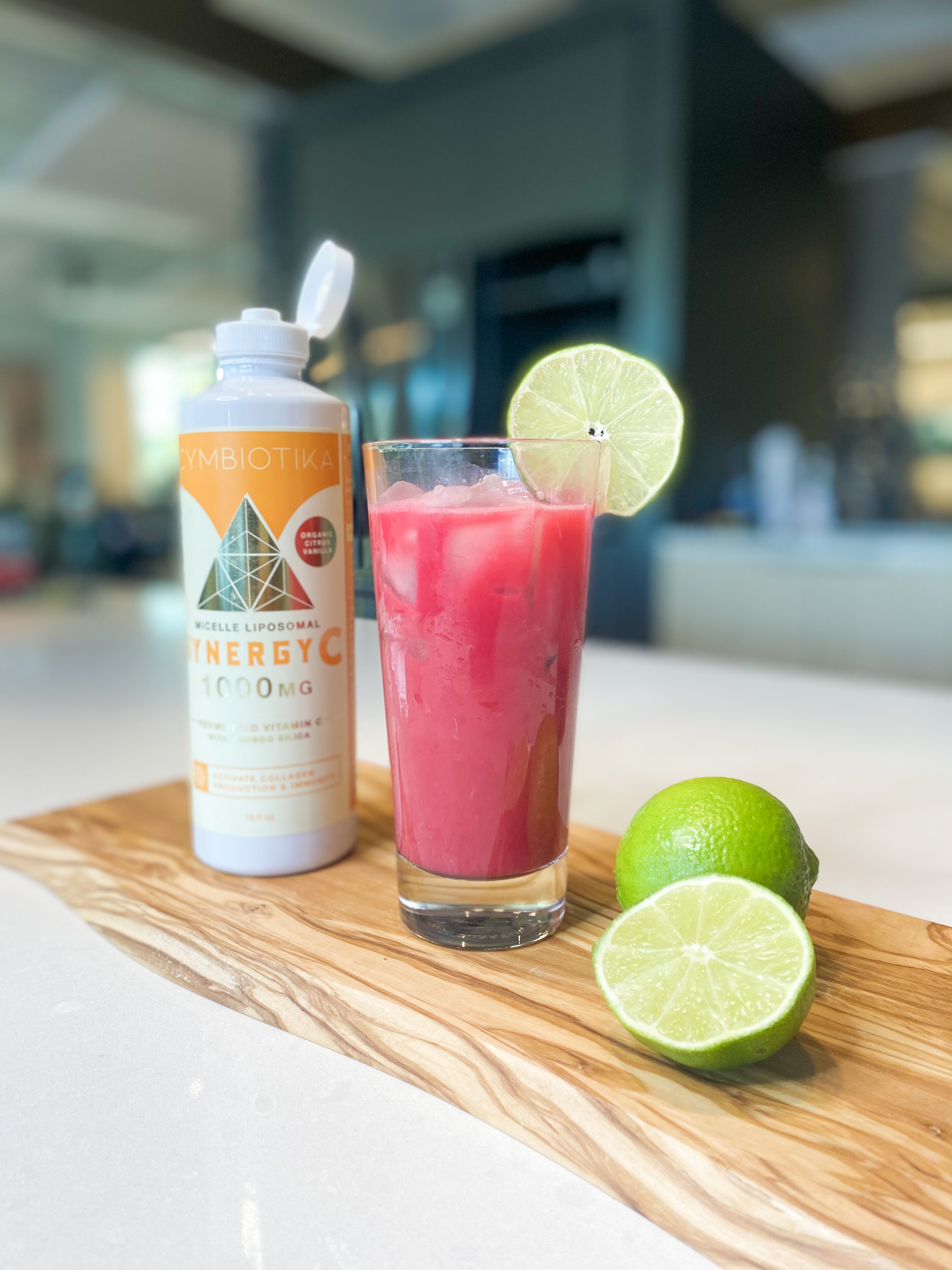 This Creamy Citrus Vanilla Hibiscus Iced Tea was initially spawned from a random creative day in the kitchen. I've always enjoyed a squeeze of citrus in my hibiscus tea, but little did I know when I added Cymbiotika's Synergy C, my regular hibiscus tea would turn into a heavenly, creamy hibiscus latte, without ever even adding milk! We are now calling it our Pink Drink and it has become a huge hit with the entire family, including our nieces and nephews.
Unlike a typical hibiscus latte you can find at every Starbucks, this one has no sugar, no terrifying fake sugars and no heavy whipping cream. In fact, it's made with organic herbal hibiscus tea and packed full of essential immune building and collagen stimulating nutrients found in Cymbiotika's Synergy Vitamin C product.
It doesn't get any better than that! Support my overall health, stimulate new collagen, strengthen my immune system, boost cellular energy with no crash, all while sipping my delicious pink drink that tastes like creamy heaven yet has low calories and crabs and zero sugar!? YES PLEASE! I'll take two. This magical beverage has quickly become my favorite afternoon treat, replacing caffeinated beverages and giving me an extra boost of energy while putting a big smile on my face. 
Hibiscus Tea
I've been making a large batch of iced Hibiscus tea once or twice a week, about 1/2 gallon at a time by brewing dried organic hibiscus flowers. Hibiscus tea bags will also work just fine. Whatever you prefer. For loose tea you will need 1.5 tsp for every 8oz of water. For tea bags, 1 tea bag per 8ox of water. If you are making ½ gallon at a time you will need 2 cups of loose hibiscus flowers. To begin add flowers and water to a pot on the stove, bring to boil and quickly reduce to a simmer, cover, and allow to steep for 5 minutes. Once finished, use a tight strainer or nut milk bag to separate the loose flowers from the water. Don't throw your tea leaves in the trash, they make great fertilizer for any outdoor plant or garden. Transfer liquid to a glass jar or storing container. Allow tea to cool on counter for a few hours and then place in the refrigerator. 
Hibiscus tea has been shown to lower blood pressure, reduce blood sugar, support healthy cholesterol and triglycerides, it may be effective at preventing kidney stones, and due to it's very high level of antioxidants it's great for fighting free radical damage and oxidative stress. Hibiscus is also a great source of Vitamin C and iron.
Shaken OR Stirred
I prefer this Creamy CitrusVanilla Hibiscus Iced Tea shaken like a cocktail, for a bit more froth, fun and extra cream on the top.
If shaking is not your thing no worries. Just pour the hibiscus tea over ice, add sweetener and Synergy C and stir to mix all ingredients together.
Sweeten However You'd Like (or Don't)
I love adding monk fruit extract powder or a few drops of stevia to my preferred sweetness. Many times I just go without. Depends on my mood.
Fruit Garnish
Add some berries to ice in the glass before you pour over the Creamy Citrus Vanilla Hibiscus Iced Tea, garnish with a berry and/or lime. Blackberries, strawberries or raspberries are also really nice.
Prep time
5 mins
Total time
5 mins
Serves: serves 1
Ingredients
8 ounces brewed Hibiscus Iced Tea
1 Tbsp of Cymbiotika Synergy C per 8 oz serving.
sweetener of your preference, to taste, I prefer monkfruit or stevia
ice
For Serving: (optional)
strawberries, thinly sliced
lime wedge
Instructions
Add the tea, Synergy C, sweetener if you are using it and ice to a cocktail shaker.
Shake it or stir.
Pour over ice. Add berries if you'd like and/or a lime wedge.