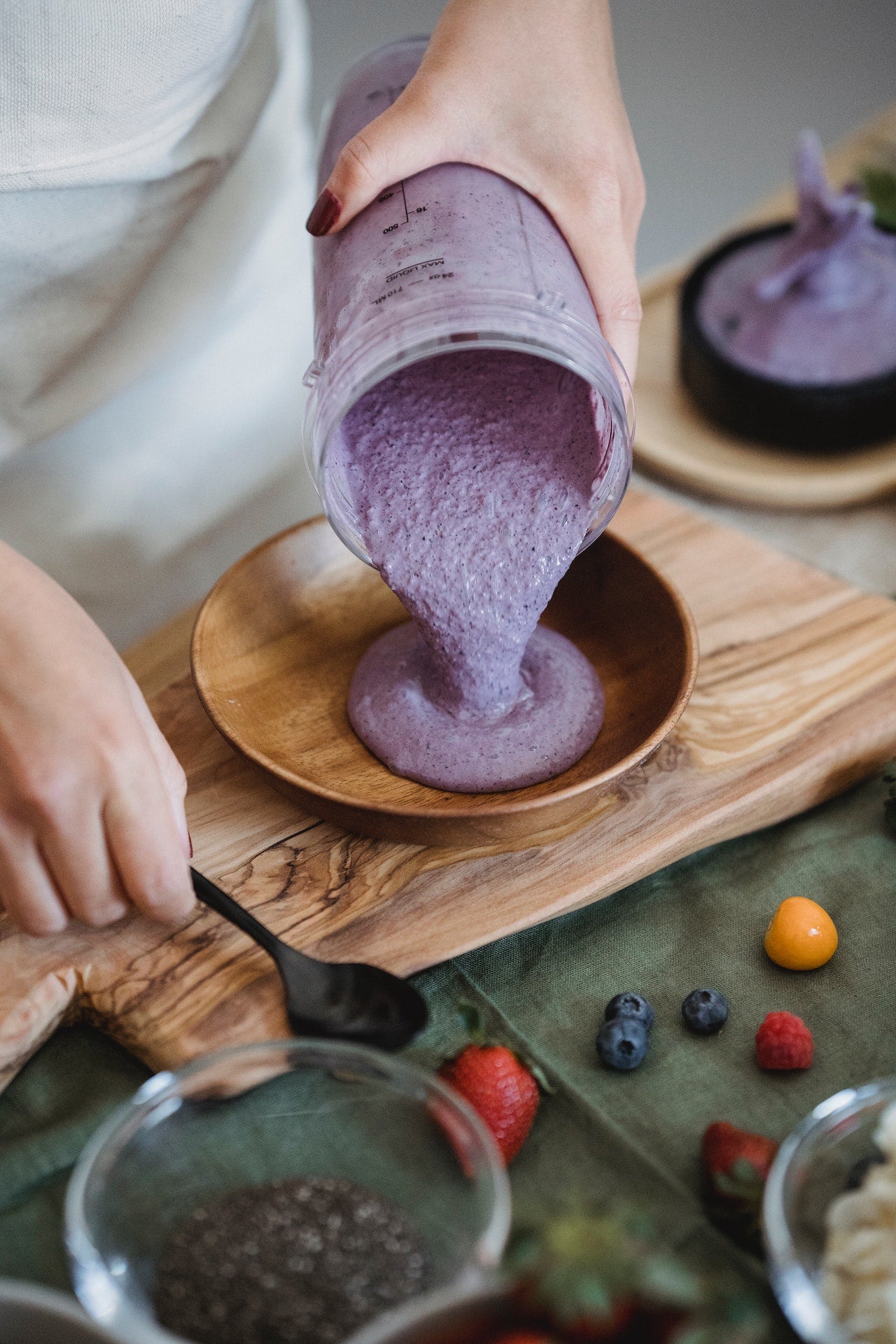 From fighting nasty little pathogens to distinguishing harmful cells from beneficial ones, your immune system does a lot of work.1 Naturally, that means your immune system will need an occasional boost, whether it's from the food you eat or an immune defense supplement.
Eating a well-balanced and nutritious diet is a great way to keep your immune system in tip-top shape. But given our sometimes hectic lifestyles, eating the right amount of fruits and veggies is often easier said than done.
Fortunately, the smoothie is a dietary cheat code, perfect at providing your body with its necessary daily nutrients.
In this article, we'll dive into 4 immune-boosting smoothie recipes designed to help keep your immune system in tip top shape and excite your taste buds.
#1 Mixed Berry Smoothie
When most people think of a smoothie, they imagine an assortment of delicious berries blended to perfection.
That's because, in addition to tasting great, berries provide an excellent source of vitamins and minerals, including Vitamin C, fiber, and potassium.
To give your immune system berry-boosting power, consider adding the following berries to your smoothie:
Blueberries – Considered a dietary superfood, blueberries are chock full of antioxidants, molecules that greatly support your immune system and can even help combat degenerative disease.2

What's more, this minuscule berry packs a huge healthy punch when it comes to providing Vitamin C and potassium. These nutrients are necessary for proper immune system functioning.
Strawberries – Sweet and juicy, strawberries are the perfect berry for a nutrient-rich and delicious smoothie. While strawberries contain several important vitamins and nutrients, Vitamin C is the uncontested star of the show. Strawberries are one of many foods high in vitamin C, an all-important immune-boosting vitamin essential for a healthy immune system.3
Blackberries

– Not only do blackberries support brain functioning, but they also give the immune system a much-needed boost. That's because, in addition to containing ample amounts of Vitamins A and C, blackberries are rich in magnesium. A mineral vital for bone health, magnesium also can reduce inflammation, providing your immune system with a helping hand.
Now that you know three of the best berries to blend into your smoothie, let's take a look at a mixed berry smoothie recipe guaranteed to get you saying, "wow, that's delicious." 
The Recipe
Making a mixed berry smoothie is as easy as peeling a banana. All you need are the following ingredients:
2 cups mixed blueberries, strawberries, and blackberries

1 cup chopped bananas

1 cup yogurt 

2 cups milk or milk alternative

Ice

A tablespoon of plant-based

Cymbiotika Synergy Vitamin C
Loaded with Vitamin C, E, and bamboo silica, Cymbiotika Synergy Vitamin C is designed to give your immune system all the care it needs while promoting collagen production and healthy aging. In fact, it makes a great addition to any of the smoothies on this list!
Simply blend all of the ingredients in a blender until you achieve your desired thickness (adding more liquid if necessary). You can add more fruit to the top of your smoothie for an even greater immune system boost.
#2 Green Smoothie
Although the green smoothie looks like a drink only Shrek would enjoy, it's a delicious, satisfying way for even the most veggie-averse person to receive their daily requirement of leafy greens.
That's because green smoothies typically contain the following immune-boosting and nutrient-rich foods:
Kale

– In recent years, kale has seen a tremendous resurgence, dominating cookbooks and apparel alike. That's because this leafy green is versatile and delicious, packing a whopping number of immune-boosting vitamins and nutrients. In short, kale is an excellent source of Vitamins A, C, and K, as well as fiber and manganese.
Celery

– One of the healthiest veggies out there, celery has long been central to many dishes, especially when used alongside onion and carrot as a base flavor. But did you know celery is also a great addition to any smoothie? An excellent source of Vitamins A and K, celery gives the immune system a power-up. Celery has also been shown to support heart health, promote weight loss, and maintain eyesight. Consider giving this delicious veggie a spot in your healthy smoothie.
Cucumber

– While not a leafy green, cucumber shouldn't be an afterthought when it comes to your morning (or evening) smoothie. Nutrient-filled and low in calories, cucumbers are fantastic sources of antioxidants. In fact, they're similar to blueberries in their ability to fight free radicals. What's more, cucumbers are excellent sources of protein, Vitamins A and K, magnesium, and heart-healthy carbs.
Once you've had these veggies in your smoothie, chances are you won't look at the produce section the same way.
The Recipe
Who knew having veggies for breakfast could be downright delicious? Follow this simple healthy recipe for the green smoothie your taste buds have been waiting for. 
To get started, gather the following:
1 chopped cucumber

2 cups water (or coconut water)

4 chopped celery stalks

1 cup frozen fruit of your choice

4 kale leaves, destemmed

Mint or basil leaves

Ice
Next, simply blend the ingredients until the smoothie achieves your preferred texture. Garnish with a mint or basil leaf.
For a less "veggie-forward" smoothie, add more frozen fruit. If you prefer more of a veggie taste, add less fruit.
#3 Chocolate-Cherry Protein Smoothie
If you lead an active lifestyle, you know the benefits of consuming the right amount of carbs and protein. While carbs give you the fuel necessary to reach peak performance, protein helps maintain and build muscle.
This decadent chocolate-cherry protein smoothie is guaranteed to supply you with the nutrients to keep you ahead of the competition.
And the best part? It's also chock full of immune-boosting ingredients. These ingredients include:
Cherries – An incredibly rich source of Vitamin C, potassium, calcium, and magnesium, cherries are delicious and high in antioxidants. In addition to promoting a healthy immune system, cherries have been shown to reduce inflammation, help with sore muscles and joints, and aid in muscle recovery post-workout.4
Cacao powder –

The principal ingredient in chocolate, cacao powder makes your smoothie taste like dessert while giving you amazing health benefits. Can you say

win-win

? Cacao powder packs a ton of immune-supporting antioxidants, as well as protein, fiber, and magnesium. What's more, cacao powder contains a good amount of mood-boosting caffeine.
Banana –

You may already know that bananas are loaded with potassium. But did you know that this versatile fruit is also packed with immune-strengthening Vitamin C? Simply blend a banana into your next smoothie for a thicker, creamier, healthier drink.
Peanut butter –

High in protein and healthy fats, peanut butter, makes a great addition to any smoothie. It's also a good source of Vitamin E, an antioxidant that promotes vision and muscle health. Scoop a spoonful of peanut butter into your next smoothie for a delicious burst of flavor and protein.
Chia seeds –

Edible seeds that are loaded with antioxidants, vitamins, and minerals, chia seeds have been shown to reduce inflammation and promote good heart health. They're also a fantastic source of fiber.
Follow the recipe below for a chocolate-cherry protein smoothie that'll jumpstart your day.
The Recipe
To make a chocolate-cherry protein smoothie, gather the following ingredients:
1 cup pitted cherries (you can buy unpitted cherries, but make sure to remove pits)

1 cup milk of your choice

1 T peanut butter (or almond butter)

1.5 scoops protein powder

1 chopped banana

2 T cacao powder

1 T chia seeds

Ice
Blend the ingredients until your smoothie reaches the desired thickness. Garnish it with a cherry and cacao powder.
#4 Orange Smoothie
If the green smoothie makes you think of a lush garden, the orange smoothie will call a warm sun to mind. That's because the orange smoothie is bursting with citrusy flavor, providing you with enough nutrients to elevate your immune system and help you avoid a vitamin C deficiency.
In addition to orange, orange smoothies typically contain the following ingredients:
Mango – A deliciously sweet fruit, mango packs a powerful immune-boosting punch. Like orange, mango is loaded with Vitamin C. The stone fruit also provides copper and folate, two nutrients shown to promote a healthy immune system response.5
Baobab powder

– Similar in texture to coconut, the baobab is an African fruit that provides serious health benefits. In addition to an ample amount of Vitamin C, the fruit contains fiber which helps with digestive health.
Follow the recipe below to thrill your taste buds with a burst of summer any time of the year.
The Recipe
To make the orange smoothie, gather the following ingredients:
1.5 cups chopped mango

1 peeled and deseeded orange

1 T baobab powder

1 chopped banana

1 cup coconut water

Ice
You know the drill by now—blend until your smoothie looks just the way you like it, and use an orange slice for garnish.
Boost Your Immune System With Cymbiotika
Let's face it: getting all of your required daily nutrients can be tough. 
Luckily, smoothies can boost your immune system with ingredients you already have at home. And the best part? There are numerous ways to prepare your smoothie. Not in the mood for a smoothie? Try out this Immune-Boosting Elderberry Mocktail for a change.
But whether you crave a chocolate-cherry smoothie or desire the taste of veggies, you can take it to the next level by adding in a few drops of Cymbiotika Synergy Vitamin C.
Add a tablespoon of Cymbiotika Synergy Vitamin C to your favorite smoothie for an immune system as strong as you are.
Sources: