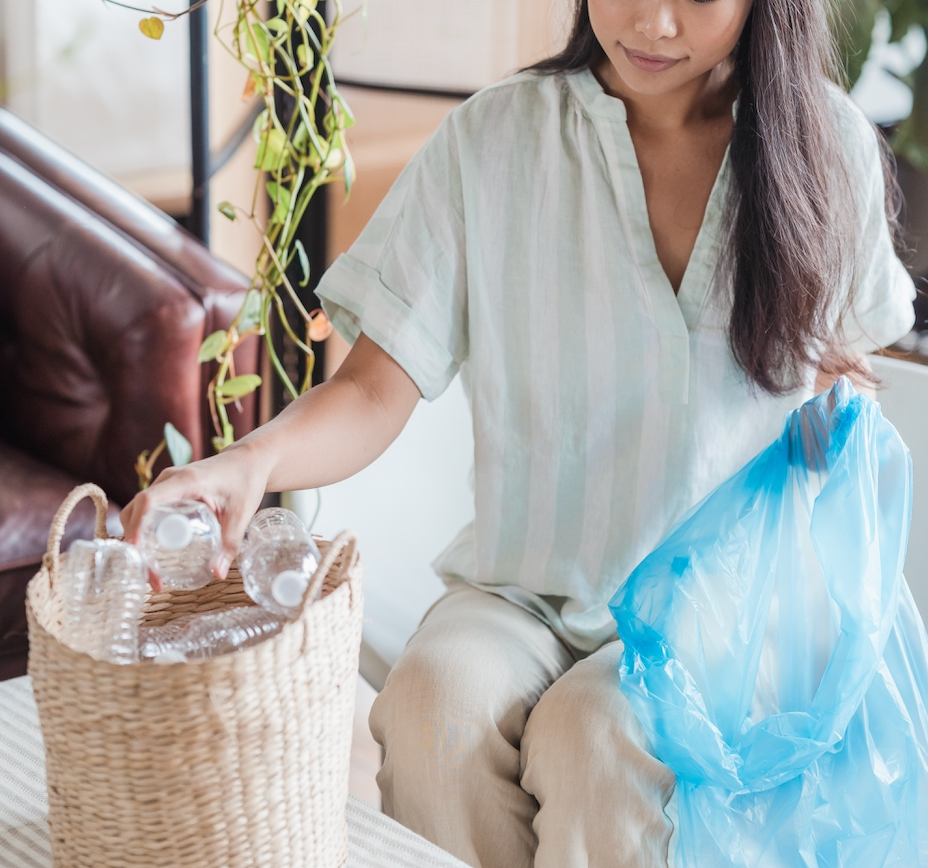 EDUCATION
8 Common Recycling Mistakes (& What to Do Instead)
6 min read
Essential Takeaways  
25% of our recycling is so contaminated that it ends up in the trash anyways.

If there's even just a little contamination in your recyclables, the entire batch can still get tossed out. 

We share eight common recycling mistakes and what you can do instead!
Happy sustainability month! 🌏
With Earth Day just around the corner, I want to focus on sustainability and encourage everyone to do their part in preserving our planet. We want our children (and grandchildren) to grow up and thrive on a healthy, thriving, and clean planet. So, here are eight common recycles mistakes you might be making and what to do instead.
8 Common Recycling Mistakes 

1. Recycling plastic bags/packaging
Plastic bags are not recyclable. This includes plastic grocery bags, plastic Amazon bags, plastic produce bags, and food packets, like a bag of chips. For the sake of your drawer (and our planet), consider switching to a recycled tote bag to hold all your goods.

2. Recycling wrapping paper
Gift wrapping paper that's metallic or has non-paper decorations is not recyclable. The good news is that there's a better alternative. The next time you have a birthday party to go to, try using brown paper bags as wrapping paper. It's just as effective and even cuter!


3. Throwing paper towels in the recycling bin
Get ready to be shocked: paper towels can't be recycled, but they can be composted! Instead of going through paper towels, try using small rags or sponges to wipe down surfaces instead.

4. Assuming greasy pizza boxes are recyclable
Every so often, we'll have a family pizza night at our household. But it wasn't until recently that I learned a pizza box is only recyclable if it's completely clean. If there are grease marks or leftover sauce on the box, you can't recycle it. You can only compost it. So, make sure you clean out your leftover food or pizza box before you recycle!

5. Tossing styrofoam
Whether it's styrofoam cups or takeout boxes, styrofoam is not recyclable. To avoid using styrofoam, try using glass containers to take home leftovers. Food tastes way better the next day when stored in a glass container, anyway! 

6. Recycling coffee cups
This one was a big shock: coffee cups are actually filled with plastic films on the inside, making them a trash-only item. However, all takeout coffee lids are usually recyclable. If you order your morning latte out, make sure to break it apart after and toss the cup into the trash. To be more sustainable. I've started bringing my own to-go mug to coffee shops.
7. Tossing old receipts in the recycling. 
This one was a surprise to me: all receipts must be trashed due to the high BPA content (bisphenol A) that could contaminate the recycling. BPA is an endocrine disrupter and is actually harmful to kids and pregnant women. To reduce waste, try opting for a digital receipt instead.
8. Not recycling items that actually are recyclable
Several household items are actually recyclable—you just have to find the correct recycling program.
For example, IKEA has its own recycling program for batteries, fluorescent light bulbs, and mattresses (Canada only for mattresses). Staples will recycle ink cartridges, old electronics, and rechargeable batteries for you. Nike takes old running shoes and repurposes them into turf, tracks, and even playground padding.
You can also recycle items like glasses, old cell phones, crayons, and other things. In short, before you toss something out, do a quick Google search of local retailers that are able to take items back and recycle them.
Summary
I hope you can take away some simple switches to practice sustainability daily! I've personally found my head is clearer when there is less junk around the house. I'm all about living more minimally these days, anyway (thanks, Marie Kondo). 
Cheers!
Love,
Mary
Mary Adams
Author
As a lifestyle writer and health enthusiast, I'm excited to bring my passion for storytelling to Cymbiotika. Two things you should know about me: I love interior decorating, and I'm obsessed with supplements. My kitchen counter literally overflows with supplements and powders. This passion led me to buy my first Cymbiotika product. I tried the Liposomal Magnesium L-Threonate and was so impressed by how it gave me more energy and cleared up my brain fog that I wanted to share this brand with as many people as possible. Shortly after, I'm here doing just that. I'm excited to be on this journey of better health with Cymbiotika, and I'm excited to share it with you here on the blog.
Reviewed by: Dr. Pejman Taghavi
Medical Director, Hollywood Healthcare
Clinical Instructor, Ronald Reagan UCLA Medical Center
Dr. Pejman Taghavi is a specialist in the field of Diagnostic and Interventional Abdominal and Musculoskeletal Radiology. As medical director of Hollywood Healthcare and faculty at UCLA Medical Center, Dr. Taghavi offers extensive expertise in the field of radiology, with publications in the Society of Skeletal Radiology and Chicago Radiological Society, among others. Dr. Taghavi is passionate about the healing of muscles and joints without relying on oral pain medications. Dr. Taghavi has experience working with high-level athletes from the LA Lakers, LA Dodgers, and UCLA Bruins.
Sources: https://imperfectidealist.com/common-recycling-mistakes/