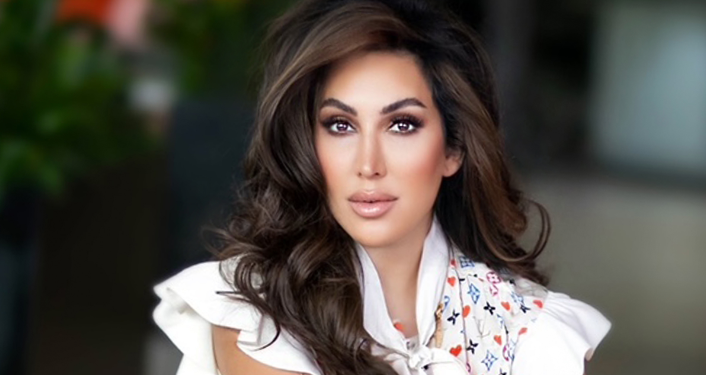 by Jed Morley  August 2, 2023 in Interviews
"When you lead with passion, you inspire others and create a sense of purpose that drives you and your team toward success."
Durana Elmi
We are excited to present an exclusive interview with Durana Elmi, the Chief Operating Officer and co-founder of Cymbiotika, a company dedicated to providing superior plant-based supplements for optimal health.
An Afghan immigrant, philanthropist, and health advocate, Durana shares her journey of transforming the supplement industry by prioritizing transparency, quality, and innovation.
With a strong focus on empowering women in her company and the broader community, Durana is passionate about creating a diverse, inclusive, and nurturing environment for her team.
As a wife and mother, she understands the importance of work-life balance and leads by example, inspiring others through her dedication and passion for health and wellness.
Join us as we delve into the world of Durana Elmi and discover her vision for success in 2023 and beyond.
We are thrilled to have you join us today, welcome to ValiantCEO Magazine's exclusive interview! Let's start off with a little introduction. Tell our readers a bit about yourself and your company.
Durana Elmi: First off, thank you so much for having me. My name is Durana Elmi, and I am the Chief Operating Officer and a co-founder of Cymbiotika. Our story began with a need to fill nutritional gaps and provide our bodies with everything vital for optimal health. 
We recognized an alarming lack of transparency in the supplement industry, with products full of fillers, toxins and synthetic ingredients. Personally, I was reluctant to take supplements because I couldn't trust them. After years of research, our team at Cymbiotika has created the best supplements on earth. 
We combine scientific innovation with traditional Eastern medicine to design formulas that synergize with the body, and are sourced from only the highest quality plant-based ingredients. Outside of Cymbiotika, I am an Afghan immigrant, philanthropist, health and wellness advocate, and perhaps my most important title: a wife and mother to my two beautiful daughters.
In the past year, what is the greatest business achievement you'd like to celebrate with your team? Please share the details of that success.
Durana Elmi: I'm proud to say that women make up 70% of our team. I am passionate about women's empowerment and recognize the importance of empowering them within our company and in the broader community. 
In our company, I've prioritized leading events specifically for women to provide mentorship opportunities, deepen relationships, and grow through workshops. Diversity and inclusion are critical to our success, and we're constantly working to create an environment where everyone can thrive.
What advice do you wish you received when you started your business journey and what do you intend on improving in the next quarter?
Durana Elmi: In the world of business and entrepreneurship, failure is a shared experience. However, it's important to remember that failure is not the end – it's a new beginning to learn, grow, and try again. So, fail with confidence. 
Be self-assured in your abilities, and do not allow setbacks to diminish your self-worth or confidence. To succeed in the next quarter, I will continue to lead with business and passion. Those two things are essential when running any business. 
When you lead with passion, you inspire others and create a sense of purpose that drives you and your team toward success. Additionally, it's essential to never stop loving what you do. Passion for your work fuels your creativity, resilience, and commitment. 
It keeps you engaged, motivated, and energized, even during difficult times. When you love what you do, you're more likely to persevere through challenges, embrace change, and innovate.
Online business keeps on surging higher than ever, B2B, B2C, online shopping, virtual meetings, remote work, Zoom medical consultations, what are your expectations for the year to come and how are you capitalizing on the tidal wave?
Durana Elmi: We're capitalizing on the tidal wave and staying ahead of the competition by never losing momentum. We're never complacent and strive to be better than the previous day. One of our strengths as a company is our collaboration. 
By being physically present in-office, our team can quickly put out any fires that may arise. As a leader, I want to foster an environment where team members can thrive in a creative, comfortable space. 
This allows them to tap into their creativity which is essential to enhancing both the customer experience and the technology that customers interact with. For example, our loyalty program, Arise, was launched just six months after ideation and accumulated over 22,000 members three weeks after launch. 
This quick turnaround demonstrates how quickly and effectively Cymbiotika team members work together.
Business is all about overcoming obstacles and creating opportunities for growth. What do you see as THE real challenge right now?
Durana Elmi: The real challenge is the economy—it's resulted in significant job losses. However, our customer's well-being and health will always remain our top priority.
Whether through new products, services, or additional support, Cymbiotika is determined to find ways to support all of its dedicated customers throughout their health journey.
2020, 2021, 2022 threw a lot of curve balls into businesses on a global scale. Based on the experience gleaned in the past years, how can businesses thrive in 2023? What lessons have you learned and what advice would you share?
Durana Elmi: My advice would be to fail forward. Continue to be authentic to your mission and your goals. Be a people-first leader–your team looks to you for inspiration and guidance.
To thrive in 2023, you can't cut corners. 
Don't sacrifice the quality of your products, how you run your business, or treat your team. Success will come when you lead with authenticity and integrity and put your people before yourself.
What does "success" in the year to come mean to you? It could be on a personal or business level, please share your vision.
Durana Elmi: First and foremost, our priority is to maintain our position as the number one wellness brand in the health and wellness industry. We are intentional with everything we do. Every product and formula is thoughtfully made. We only use the highest quality, plant-based ingredients, and we want to pave the way for others to follow. 
Second, our vision is to expand internationally to provide customers worldwide with access to the same health benefits we provide. 
Third, I want the company to continue to build an incredible community of women through mentorship programs and workshops that foster a supportive and empowering environment for all. To achieve these goals, the company plans to remain at the forefront of technology and health while creating jobs and opportunities for women locally and globally.
Jed Morley, VIP Contributor to ValiantCEO and the host of this interview would like to thank Durana Elmi for taking the time to do this interview and share her knowledge and experience with our readers.