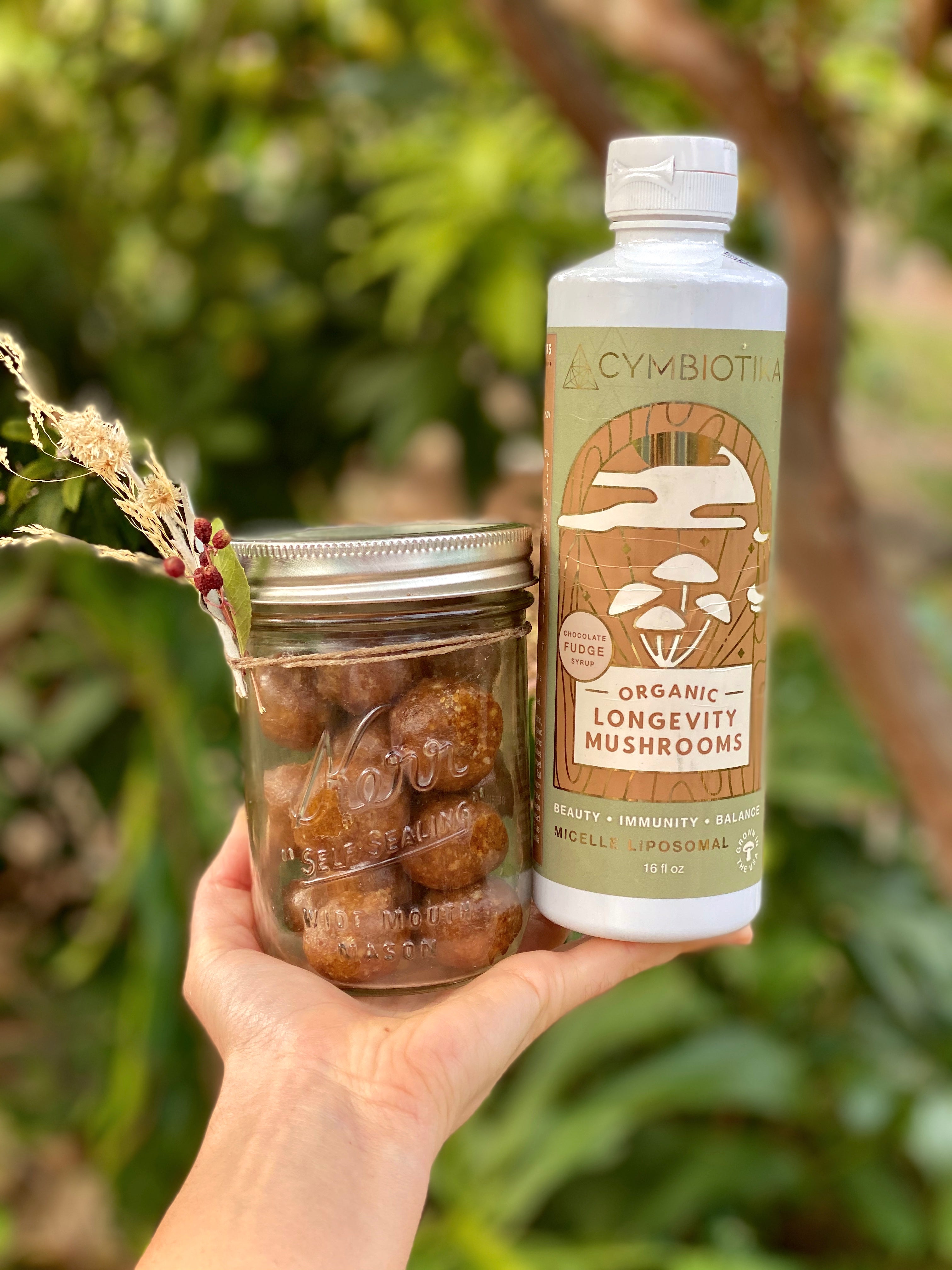 This sweet treat is out of this world… it's fully raw vegan, gluten-free, and made with under 10 ingredients. We love sending our loved ones off with these yummy, healthy bliss balls made with our chocolate fudge Longevity Mushrooms-- they're so good, even the kids love them!
Raw Vegan Chocolate Mushroom Bliss Balls
Time: 10 minutes
Yields: 20 bliss balls
Ingredients:
12 medjool dates (pitted)

1 cup raw pecans or raw walnuts 

1 tablespoon of Cymbiotika's Longevity Mushrooms

½ teaspoon coconut oil (melted)

½ teaspoon salt

½ teaspoon cinnamon 
Optional Toppings:
Coconut flakes

Rose petals

Cacao nibs

Cacao powder & cinnamon 

Cymbiotika's Magnesium L-threonate 
Directions:
Add raw pecans to a food processor and pulse until finely chopped

Add the rest of the ingredients and blend until smooth (it will usually become one big ball when it's complete in the food processor)

Roll individual balls & top with whatever you choose! They shouldn't stick to your hands when rolling, so if this is happening, add some more raw nuts and a little more coconut oil as well.

When finished decorating, place into a mason jar as a gift or splay onto a plate to enjoy with your family and friends!
Not only is this a delectable treat, but it's also loaded with our longevity mushrooms which have medicinal properties that enhance overall viral defense, support gut health, the immune system & the liver, and help to manage stress.
If & when you decide to try these out, let us know what you think and tag us in your photos on social media so we can see :)
We hope you enjoy!!! We personally can't get enough of these!