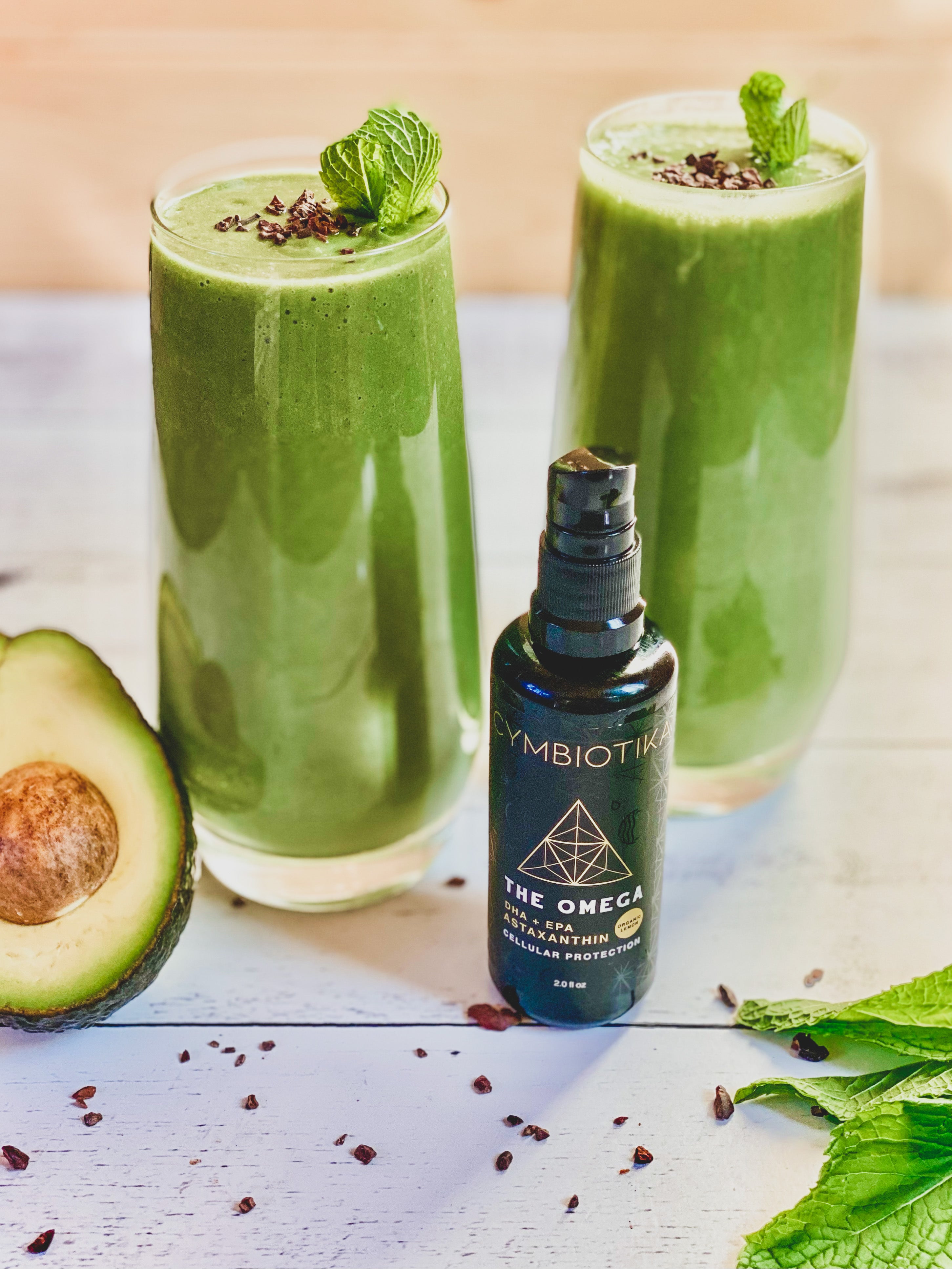 Who here has ever added avocado into their smoothies before?! 
This is one of our go to recipes for summertime! It is creamy, refreshing, loaded with antioxidants, and perfect for satisfying those sweet cravings in an instant.
Avocados are a rich source of various vitamins and minerals including Vitamin K, folate, Vitamin C, potassium, Vitamin's B5 and B6, Vitamin E, magnesium, copper, iron, and zinc to name a few. Consuming avocados may help regulate blood pressure levels, reduce inflammation, boost metabolic health, lower cholesterol and triglyceride levels, assist in absorbing nutrients from plant foods, protect the eyes, prevent cancer, relieve symptoms of arthritis and more! Talk about a superfood!!
This recipe also includes fresh mint, cacao nibs, a few medjool dates, spirulina, and our Omega formula. The Omega contains DHA that has been extracted from a wild, heirloom strain of algae from Nova Scotia. DHA is one of the most critical nutrients for the brain, eyes, and heart— and is recommended for a healthy pregnancy to support fetal brain development. Along with this, The Omega contains EPA (also known as the "anti-inflammatory" omega),  organic sea buckthorn oil (the only plant to offer all four omega fatty acids, 3-6-7-9), and Icelandic astaxanthin, which is a powerful algae strain with antioxidant properties. 
The Omega may help hydrate the skin, support brain/eyes/heart/lung health, balance hormones, decrease blood pressure, prevent neurodegenerative diseases, protect against UV damage, support fertility, pregnancy and child development, help balance omega-3 fatty acid ratios, and much more! 
This smoothie is sure to be a hit for people of all ages and is the perfect treat to enjoy on a hot day. We hope you enjoy it as much as we do :)
Recipe
Time: 5 minutes
Yields: 2 servings
Ingredients
⟁ 2 frozen avocados
⟁ 3 medjool dates
⟁ ½ cup fresh mint leaves
⟁ 2 tbsp protein powder (hemp is our favorite)
⟁ 1 tbsp cacao nibs
⟁ ½ tbsp spirulina powder
⟁ dash of monk fruit powder
⟁ pinch of salt
⟁ 7-14 pumps of Cymbiotika's The Omega
⟁ 4 cups filtered water
Directions
Add all ingredients to a blender & blend until smooth

Top with extra cacao nibs and enjoy!
With love and gratitude,
The Cymbiotika Team